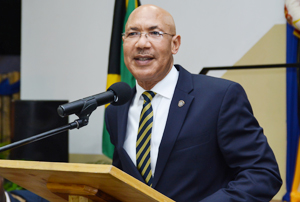 In launching the 2015 Poppy Appeal at Curphey Place on Sunday (October 4, 2015), Governor-General and Patron, His Excellency Sir Patrick Allen made an impassioned plea for Jamaicans to remember those ex-service men and women who fought in World War II.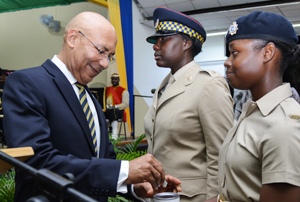 "This launch provides us with a good opportunity to show our appreciation to these men and women who risked their lives in service," His Excellency told patrons.
"Today, World War veterans and other ex-servicemen and women need us to rally to their cause with the same level of determination which motivated them over the years to serve," His Excellency added.
With the Jamaica Military Band setting the right tone, Sir Patrick Allen was the first to make his financial contribution. This was followed by many others including Master of Ceremony; Ms. Fae Ellington, Ms. Jamaica World 2015; Sanneta Myrie and Chief of Defence Staff, Major General Anthony Anderson.
The Jamaica Poppy Appeal 2015 is aimed at raising $6 million by November 11 at 11am when the season closes. The funds collected will be use to assist ex-service men at the Curphey Place Home in Mandeville; many of whom are in their sunset years and are in need of medical and personal care as well as financial assistance.
The significance of the Poppy
The first actual Poppy Day was held in Britain on November 11, 1921 and was a National success. 
On the 11th hour of the 11th day of the 11th month in 1918, the First World War ended. The areas of Northern France known as Flanders and Picardy where some of the war was fought was one of the most concentrated and bloodiest. There was complete devastation; buildings, roads, trees and natural life simply disappeared. The poppy flowers were the only living things that survived. They appeared in vast numbers bringing a delicate beauty. It brought LIFE, HOPE, COLOUR and REASSURANCE to those still fighting.
To get your poppy, a poppy board is located in many institutions across Jamaica and is accompanied by a contribution box. Please make a contribution to the Poppy Appeal and wear your poppy proudly.