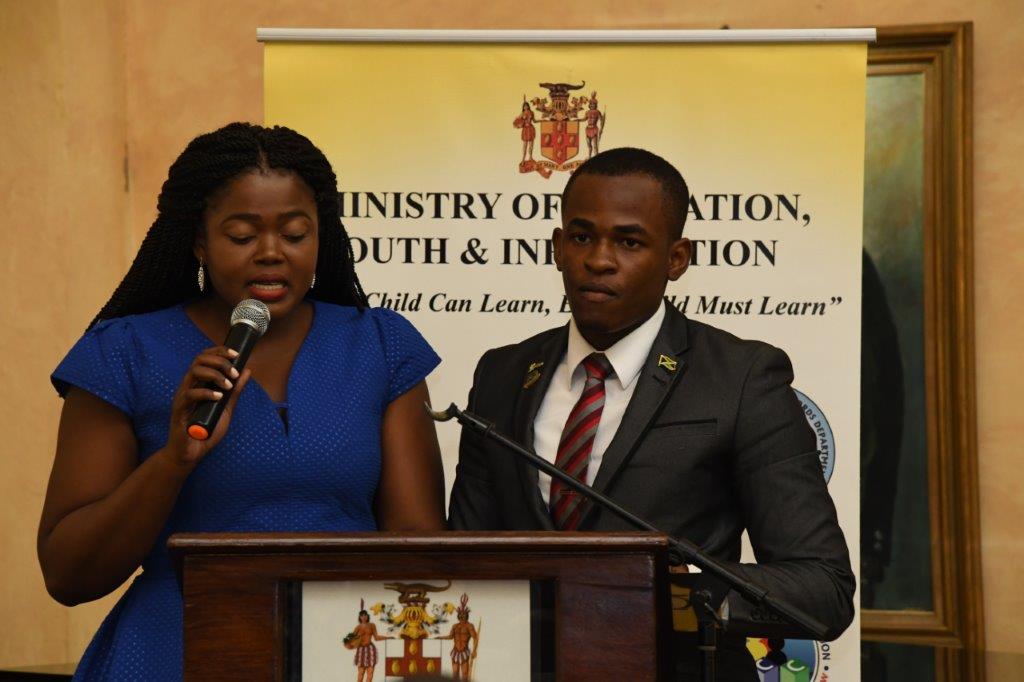 Governor-General Sir Patrick Allen today (November 22, 2017) presented six young Jamaicans with their Instrument of Office, sealing their appointment as Jamaican Youth Ambassadors. The Ambassadors whose portfolio responsibilities accredit them to the Commonwealth, the Caribbean Community (CARICOM) and the United Nations General Assembly will serve for a period of two years ending in October 2019.
The six Youth Ambassadors are Sophia Bryan and Nicholas Kee who are accredited to the Commonwealth; Odayne Haughton and Simone Townsend, CARICOM and Santana Morris and Charles D. Young who will represent Jamaican youth at the UN General Assembly.
In his remarks Sir Patrick Allen said the appointment gives each Ambassador the opportunity to influence the decisions which are made in important international councils in which Jamaica has had a respected voice for many years and as such the country will be closely following their work and achievement.
"This morning if I were to give you a bit of advice it would be to encourage you to proceed with confidence, self-discipline and pride in whatever you do," The Governor-General said. "I would further encourage you to be self-critical, to be good listeners, not just reflectors of other people's thoughts and be passionate contributors to the international dialogue," he continued.
Noting that finite boundaries and traditional career paths which define success are fast eroding, The Governor-General stated that there are however some critical qualities and principles which must define one's character namely, "respect for people and things in the environment where you live; the right attitude which can see doors open for you and integrity which builds character and allows people to see that you are cut from the right fabric."
He thanked those individuals and organisations which contributed to the development and readiness of the Youth Ambassadors for service and commended the Ministry of Education, Youth and Information and the Youth and Adolescents Policy Division in particular for its administration of the programme.
The Jamaica Youth Ambassadors' Programme is designed to facilitate the participation and contribution of young people to national dialogue.