Governor-General, His Excellency Sir Patrick Allen at a courtesy call made on him at King's House, Thursday, encouraged youngsters attending the 23rd World Scout Jamboree in Japan to, "take back a wealth of experience with them."
The group which comprises four boy scouts, the contingent leader, the chief commissioner and the international commissioner, as a matter of protocol, made the call on His Excellency who is the chief scout.  They shared with His Excellency that the Jamboree will focus on peace, science and building friendships as this year marks the 70th anniversary of the bombing of Hiroshima and Nagasaki.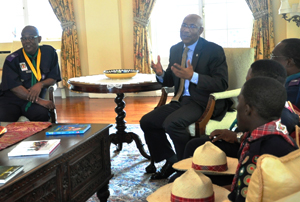 His Excellency told the departing team to be brand ambassadors for Jamaica, build friendships and to learn as much as they can from the science exposition which will feature at the event.
"With there being a focus on STEM (Science Technology Engineering and Mathematics) in Jamaica now, I trust that you will pay particular attention there," His Excellency said.
"This is very good exposure for all of you. Take back as much as you can about peace as it will be applicable to what is happening in our society today," the Governor-General also told the scouts.
The scouts further went on to share their expectations while visiting Japan as his Excellency listened with rapt attention.
One explained that he travels a lot on bicycles and so he is interested in seeing a bike show, another was excited about seeing the cars and wanting to let all of Japan know that Jamaica knows their vehicles.
His Excellency used the opportunity to brief the scouts on travel safety, "take your ID cards with you and stay together as a group," he cautioned.
"Have fun, collect signatures, and you may want to read a good book for the
duration of your flight," His Excellency further advised.
The participants for the World Scout Jamboree are normally drawn from scouts across the island. The scouts attending this year's event being held in Kirara-hama, the most western end of Japan, in July, are drawn from the parishes of St. Thomas, St. Andrew and Portland.
The World Scout Jamboree happens in a different country around the world every four-year.  Last time the event was held in Sweden, next time it will be held in the USA, while Japan is this year's winning bidder.
Over 35,000 participants have already registered to attend this year's World Scout Jamboree being held under the theme, "A Spirit of Unity."