Wednesday 6th February 1952 is indelibly printed in the mind of Her Majesty The Queen (Elizabeth II) as it was the day her father, King George VI died, and it was the day of her accession to the British throne.  The young Princess and her husband, Prince Phillip were on a visit to Kenya at the time, and on hearing the news, they immediately flew back to England. Her Coronation took place in Westminster Abbey on 2nd June 1953 in a solemn ceremony conducted by Dr. Geoffrey Fisher, Archbishop of Canterbury.
In recognition of the Queen's accession to the Throne, Governor-General Sir Patrick Allen sent a congratulatory message to Her Majesty in which he paid tribute to the six (6) decades of her reign which he said was marked by "wisdom, dedication and integrity".  Said Sir Patrick, "Her Majesty's extraordinary knowledge and interest in Commonwealth and Caribbean Affairs is greatly admired and appreciated".
At 5 p.m. on January 22, 2012, The Queen became the longest serving British Monarch overtaking her great-great-grandmother Queen Victoria as the longest-living British Monarch. Victoria died on January 22, 1901, having lived for 81 years and 243 days. She celebrated her Diamond Jubilee on the 20th June 1895.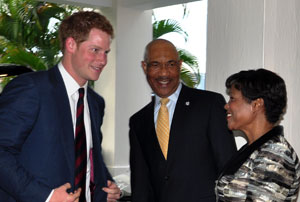 When Queen Elizabeth celebrates her Diamond Jubilee on 2nd June this year, she will be the second monarch to do so in British history. An impressive series of events have been planned in Britain to commemorate the occasion including: a Thames River Pageant, Bank Holiday, a National Derby, Diamond Jubilee Concerts, Civic Honours Competition, Production of a Royal Jubilee Coin and Emblem and preparation of a Time Capsule. A new charitable trust, 'The Queen Elizabeth Diamond Jubilee Trust', has also been launched.
A service of Thanksgiving will take place at St. Paul's Cathedral in London. In Jamaica, His Excellency the Governor General will head a congregation at a special Jubilee Service. On Tuesday 31st January 2012, St. Paul's Cathedral issued a Jubilee Prayer, which was written at the Queen's direction by the Chapter of St. Paul's Cathedral for Her Majesty's Diamond Jubilee. The prayer will be used at the St. Paul's Cathedral and also at special Service at the St Andrew Parish Church here in Jamaica in the second week of June.
During her reign, The Queen reached important milestones in her personal life, and some of these have been celebrated publicly. "Such events help reinforce her role as a focus for national identity and unity as people across the Commonwealth come together to mark an important occasion for their Head of State", says and entry on the British Monarchy website.
In 1977, The Queen's Silver Jubilee was marked with celebrations at every level throughout the country and the Commonwealth. In 2002, there was an exciting calendar of events to celebrate the Queen's Silver Jubilee. Six key Jubilee themes shaped the programme: Celebration, Community, Service, Past and Future, Giving Thanks, and Commonwealth. There was a programme of regional and Commonwealth visits by The Queen and The Duke of Edinburgh in the summer months.
The Queen's last visit to Jamaica was in 2002 as part of this Jubilee tour of Realm Countries. This year, The Queen and the Duke of Edinburgh will be visiting England, Scotland, Wales and Northern Ireland to mark Her Majesty's Diamond Jubilee. Other members of the Royal Family will also travel throughout the United Kingdom and overseas this year.
As part of the Diamond Jubilee celebrations, His Royal Highness Prince Henry of Wales (Prince Harry) will visit Jamaica from the 5th -8th March. He will also visit the Bahamas and Belize.  During his stay in Jamaica, Prince Henry will be a guest of Their Excellencies the Most Hon. Sir Patrick Allen and the Most Hon. Lady Allen at King's House. Their Excellencies will accompany His Royal Highness when he visits the Bustamante Hospital for Children, and the Victoria Jubilee Hospital, and host a dinner in his honour on Tuesday, March 6. The Bustamante Hospital for Children was once a military hospital and the Victoria Jubilee Hospital was named after Queen Victoria. He will visit these hospitals because of his interest in children.
Throughout the history of Jamaica there have been numerous royal visits to this country. King's House is the home of visiting royalties and Heads of State. The last member of the British Royal Family to stay at King's House was Her Royal Highness Princess Anne, who visited in June 2011.
The only other living monarch to celebrate a Diamond Jubilee is King Bhumibol Adulyadej (Rama IX) of Thailand who celebrated the 60th anniversary of his accession to the throne in 2006. He acceded to the throne on the 9th June 1946 and his coronation was on the 5th May 1950.