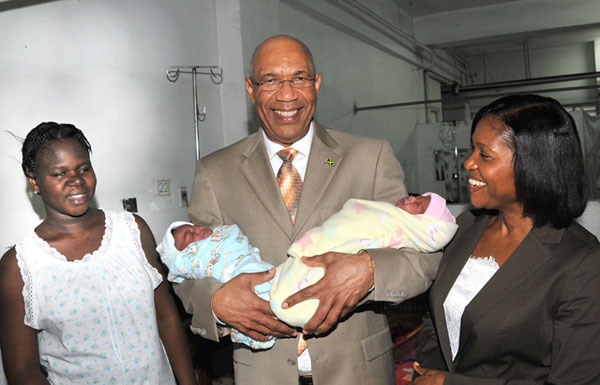 Their Excellencies Governor General, the Most Hon. Sir Patrick Allen and Lady Allen, today (Dec. 22) met with medical personnel and mothers at the Victoria Jubilee Hospital, during a visit to the facility in downtown Kingston.
The visit to Victoria Jubilee is the last stop on a four- hospital tour by Their Excellencies to bring Christmas cheer to patients and staff.
In his remarks, the Governor General stated that the hospital is very important to the growth and future of Jamaica. He noted that maternity and neonatal health are "key ingredients of any integrated policy structure that seeks to improve overall access to and delivery of quality healthcare."
He commended the work of the hospital staff, noting that "you have the important duty of taking care of people from conception and ensuring that they start life on a right footing."
He implored them to ensure that "the importance of family values and good parenting are impressed upon mothers even before they leave the facility to return to their homes."
Board Chairman of the South East Regional health Authority, Lyttleton Shirley, informed that there are over 8000 deliveries each year at the Victoria Jubilee Hospital.
"Every effort is made to ensure that the delivery of our newborns take place under the safest conditions to ensure ideal patient outcome. This accomplishment is attributed to the rigorous training of all categories of health workers in lactation management, coupled with the commitment of the highly skilled and dedicated health professionals within this institution," Mr. Shirley said.
He added that "the Victoria Jubilee Hospital remains dedicated to a mission that values the sanctity of life and places the highest priority on treating every woman with the dignity that is expected during her birthing experience."
According to Mr. Shirley, the hospital has played an integral role in reducing the island's maternal mortality rate (MMR) in keeping with the Millennium Development Goal, which speaks to reducing the country's MMR by two thirds by 2015.
"The Victoria Jubilee Hospital is well on its way to championing this initiative with the reduction of its MMR by more than 50 per cent, which is indeed a tremendous achievement," Mr. Shirley said.
The Victoria Jubilee Hospital was established in 1891 as a modest 12-bed facility, staffed with a single midwife and 14 student midwives.
Today, the 306-bed facility not only provides high quality maternity care, but is Jamaica's primary referral centre for seriously ill maternity patients across the island.