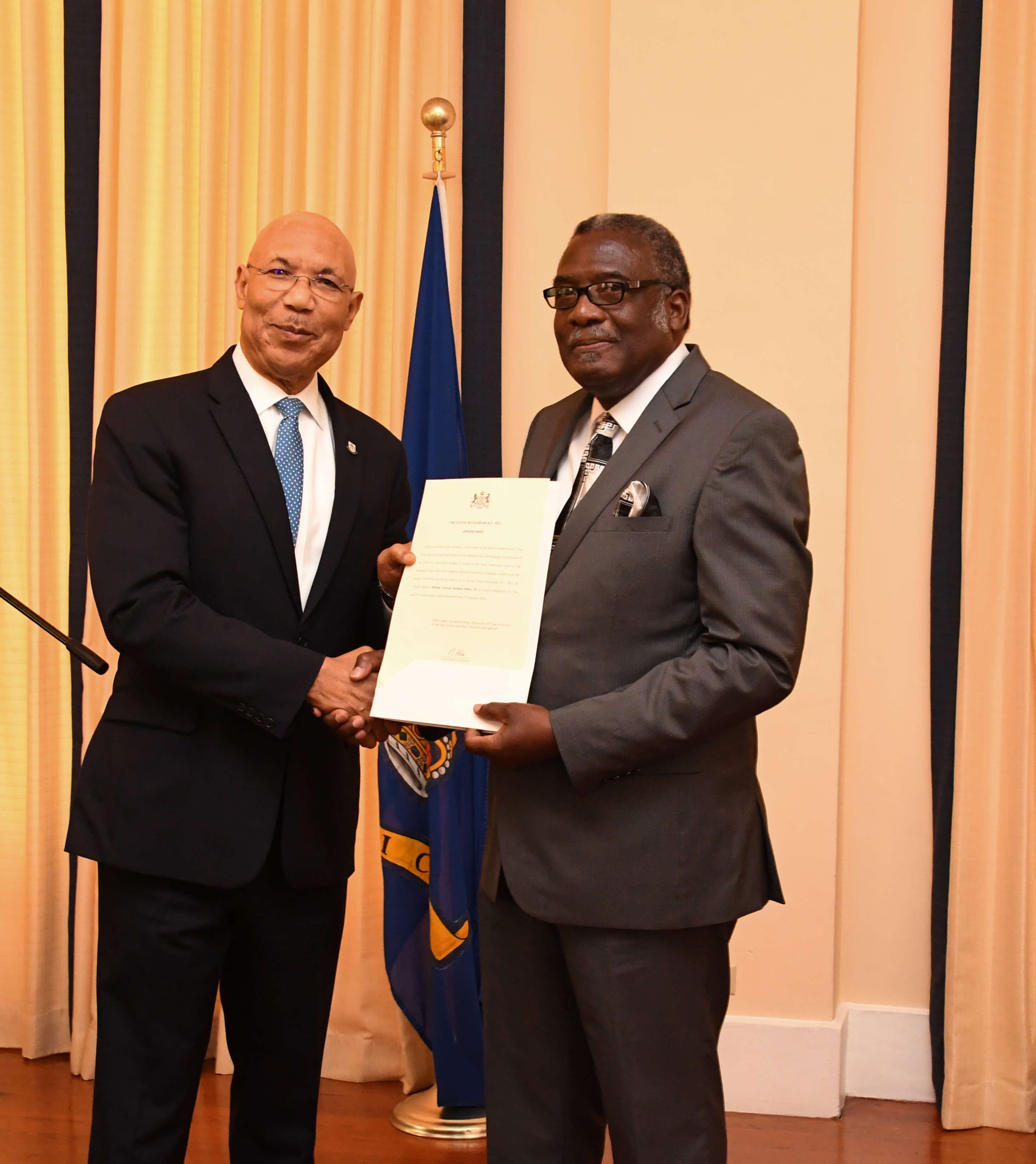 The parish of St. James is to have a new Custos come February 1. He is Bishop Conrad Pitkin, Senior Pastor of Faith Temple Assembly of God, Montego Bay who was today (Jan. 29) sworn in by Governor-General Sir Patrick Allen during a ceremony held at King's House.
In his remarks at the swearing-in ceremony which is customarily attended by close family of the Custos-designate, Sir Patrick Allen said Bishop Pitkin's appointment comes at a time when the eyes of the world are focused on western Jamaica. He expressed confidence in the new Custos, citing his appointment as an expansion of the work in which he is already engaged in the parish.
"I am aware that you are not entering unchartered territory because your efforts over the years to reach out to the grassroots communities, motivate and inspire young people especially the unattached, has earned you the experience necessary to take on the reins of Custos of this parish," The Governor-General said.
He further remarked that the office will give the new Custos a broader platform to help young people grasp the vision of a new and better Jamaica.
Bishop Pitkin replaces the Honourable Ewen Corrodus who demits office on January 31 after eight and a half years as Custos. He is already calling for a comprehensive social programme involving all stakeholders to help tame and destroy the crime monster plaguing the parish of St. James.
"I support the State of Public Emergency (in St. James)," he said "but it is not a panacea or a means to an end. A social programme is needed, involving all parish stakeholders. If we unite and work together we will tame and destroy the monster of crime."
Bishop Pitkin said he was "humbled to be asked to serve in the post" yet honoured for the confidence bestowed on him. Quoting Ester 4:14 he expressed his firm belief that his footsteps are ordered by God and stated that with His grace he will serve the parish to the best of his ability and continue the strong leadership left by Custos Corrodus.
He also pledged support for the Governor-General's I Believe Initiative, and stated that it is an important medium through which young people can be embraced and moral values and attitudes as well as civic pride instilled.
Bishop Pitkin will be installed at a public ceremony to be held in the parish at a later date. At that time, he will receive the insignia of the Order of Distinction in the rank of Commander as well as the Magistrate's Roll, which lists all the Justices of the Peace for the parish of St. James.