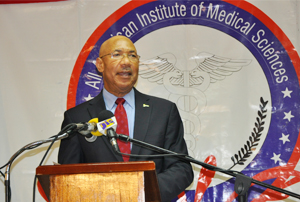 "Never cease to dream!" This was The Governor-General's message to graduates of the All American Institute of Medical Sciences at its first Graduation and White Coat Ceremony on Thursday, December 4, 2014.
The Institution is Jamaica's first off-shore medical school and is helping many students in Jamaica and the Caribbean to further their dreams of a career in the medical field. Sir Patrick Allen said that he is hopeful that the ideal of serving humanity will continue to motivate the aspiring Medical Professionals.
He reminded the graduates that on their journey they will encounter different lifestyles and ideologies which are self-centred and in which absolute truth does not exist.  "This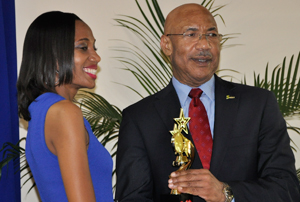 is the world in which you the students of AAIMS are being prepared to go out and serve…You are now challenged to stand for time- honoured principles, unshaken by the barbs of those who would ridicule and define you as a stuck-in-the mud reactionary," said Sir Patrick.
This he said will require courage and resilience and most importantly, a discontent with 'just getting by.' He encouraged them to "build a sure foundation by giving of your best at every stage of your development."  "It takes courage to remain true when others have fallen. Do not rob your future by settling for mediocrity," he concluded.