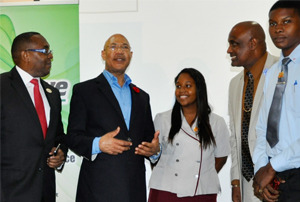 "Be confident that you have the capacity to run a successful race for yourself, your families and your country.  Invest in yourselves; position yourselves and prepare yourselves to carve your own niche in Jamaica's journey to become the next global logistics hub!" – Governor-General Sir Patrick Allen.
The saying, 'it's better to be safe than sorry,' would best describe the approach taken by The Governor-General's I Believe Initiative which has been preparing young people to grasp the opportunities projected to arise from the world's fourth Global Logistics Hub which is to be established in Jamaica.
Based on remarks from the four presenters at the Middlesex leg of the IBI Youth
Consultative Conference at the Cardiff Hotel and Spa in St. Ann, once the Logistics Hub becomes a reality, there will be many non-traditional jobs for the taking. Dr Fritz Pinnock, Executive Director, Caribbean Maritime Institute of Jamaica and Chairman of the Logistics Hub Task Force Subcommittee on Education and Training said that given Jamaica's strategic location and the global need for the Hub, it would be in the country's best interest to be prepared for what is to come.
"Look at it this way, we have the ideal location. Bigger ships are coming and they will need more water to travel. The transshipment concept will also need enough space for the transshipment ports. We must also consider the economies of scale in our preparation, we cannot be unprepared," Dr. Pinnock emphasized.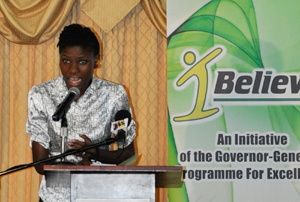 In his presentation, Mr. Godfrey Biggs, Digicel Sales Manager Enterprise Solutions encouraged the delegates to "think entrepreneurship in order to reap the best rewards from the Hub." "Technology is creating a worldwide revolution, videoconferencing, tele-presence are becoming important features of our businesses and our key objective is to ensure that we maintain this level of connectivity once this initiative becomes a reality," he continued.   Mr. Biggs also stated that Digicel has already invested in a world-class data centre which will provide software and hardware to ensure optimal connectivity in the workspace.
In the past two years, Governor-General Sir Patrick Allen has ensured that these youth conferences focused on 'Career Development and Youth Entrepreneurism' to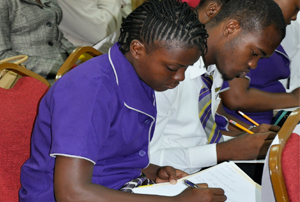 address the youth's concern about unemployment. Today, in 2014, The Governor-General said that he wants delegates "to be messengers of the good news from this Conference," and encouraged them to spread the newfound information their peers, schools and workplaces, so that they too can have a better understanding of the growth potential available.
The three series of YCC conferences are being done in partnership with Digicel Jamaica, Jamaica Public Service Foundation, Caribbean Maritime Institute, Grace Kennedy, Jamaica National Foundation, Jamaica Broilers Group, Junior Achievement Jamaica, the HEART Trust/NTA, First Regional Co-operative Credit Union Ltd. and Caribbean Airlines Limited.