Governor-General Sir Patrick Allen has endorsed the North East Jamaica Conference (NEJC) of Seventh-day Adventist Conference's Save Our Schools Through Industries and Commitment (SOSTIC) Programme; a pioneering initiative that uses greenhouse farming to create employment, revenue and promote healthy lifestyle in St Mary and Portland.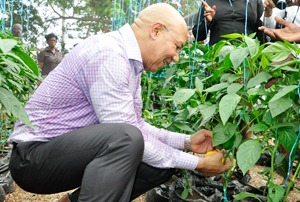 Speaking at the launch and expo on Sunday (October 4, 2015), His Excellency commended the programme which aims to raise funds to help sustain three local schools. He likens it to his youth focused service-oriented I Believe Initiative and touts agriculture as a sure way for self-reliance.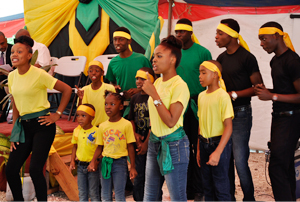 "I'm pleased to be sharing in this inaugural, innovative, and visionary expo. We are even more encouraged that through the concept of SOSTIC, the NEJC continues to embody the communitarian approach to education and sustainable development," His Excellency stated. 
 "Both the IBI and SOSTIC are prime examples of how people can come together and, with vision, affect creative solutions for the social, economic, and spiritual changes that we need. Undoubtedly, what we are witnessing here today is the seed of civic pride bearing fruits in the displays that we see and the workshops to be presented," the Governor-General added. 
His Excellency also used the opportunity to encourage self-reliance, "We believe our country, society and culture has gone into mendicancy. That is, we have become a beggarly society. We have caused people to believe they can come for handouts, especially those who believe they are poor. That solution is to get back to the Bible. Number one: 'By the sweat of your brow, you will eat bread (Genesis 3:19). Number two: You need to develop a culture of self-support, and the Bible establishes that agriculture is the surest means of full employment."  
The SOSTIC launch and expo which was organized by NEJC President, Pastor Arlington Woodburn was attended by Dr. the Hon Winston Green, Member of Parliament for South East St. Mary, Mayor of St. Mary, His Worship Councilor Levan Freeman, and other distinguished members of the clergy, and featured workshops and presentations on topics such as grant funding, crop security and healthy lifestyles.