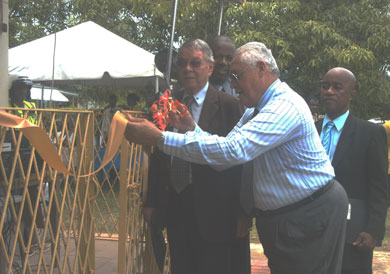 A Peace and Justice Centre, under the direction of the Dispute Resolution Foundation (DRF), was opened in May Pen, Clarendon, yesterday (August 18).
Founder of the centre, Social Activist, Dr. Walter Leavell, informed that apart from the mediation services, the centre would offer remedial skills training and support for students suspended from schools.
"We are here to do our small part, and hope that it will help to curtail the crime that now exists. One of the programmes that we are kicking of with, is funded by the Environmental Foundation of Jamaica, is targeting 20 schools in volatile areas. We will be delivering conflict resolution skills to the teachers, as well as parents throughout the communities," Dr. Leavell said.
A message from the Governor-General, His Excellency the Most Hon. Sir Patrick Allen, was read by Custos of the parish, Hon. Robert DeRoux. "You all deserve accolades for your excellent work done in the parish of Clarendon. Your role as mediators is very integral to Jamaica, and will eventually restore our island to talking things out before engaging in violence to resolve a dispute," the Governor-General said.
Welcoming the Peace and Justice programme to the town, Mayor of May Pen, Councillor Milton Brown, said that basic respect to the next person would engender peace. "I am looking forward to working with the centre, and I am suggesting that it does outreach work with communities, to enhance peace and justice," he said.
Meanwhile, Youth Development Programme Manager, with the United States Peace Corps, Corleen Roberts, called on the citizens of the parish to play their part as, "every youth in this audience needs to know that his or her parents want peace and justice for them."
"The leaders here want peace and justice for every person in this country. For this centre to work, it requires the effort of every citizen in the parish," she stressed.